US citizens must have a valid US Passport, passport card, or enhanced driver's license. Birth certificates work for minors 15 and under if  accompanied by parent with passport.
More information
International travelers must have a valid passport and be registered with the ESTA visa waiver program
More information
Beginning on May 3, 2019, The Boquillas Port of Entry will be open Friday-Monday, 9 am until 6 pm. In 2018, this schedule operated through November 1, when it reverted to its standard schedule of Wednesday-Sunday, 8 am-5 pm.

---
Big Bend National Park rangers are on site to provide
information and assist with the re-entry process.
---
Upon return to the US, documentation is scanned and transmitted to the US immigration office in El Paso, where an official views the document remotely as well as the person presenting. Via a telephone connection, the official asks the standard questions:
What was the purpose of your trip?
What are you bringing back?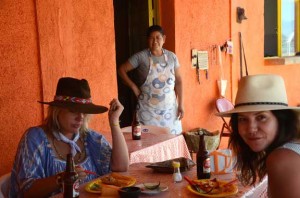 Please note that visitors may not bring raw food products, alcohol, tobacco, rocks, minerals or anything made from animals or parts of animals