Most people go to Boquillas for a just a couple of hours. Local guides walk with you through the small village past the catholic church and to the modern solar farm, that generates all the electricity for Boquillas approximately 275 inhabitants. Almost everyone eats lunch at one of the two restaurants. The meals are fresh and tasty. Hot sauce is on the side to add to your own pain level.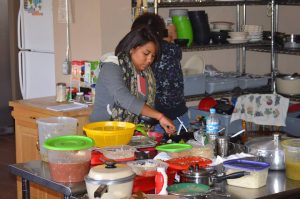 Every family in Boquillas makes things to sell to visitors. Scorpions and roadrunners from copper wire and beads; walking sticks hand decorated with local motifs; embroidered items like place-mats and tote bags. Walk through town and see it all before you decide what to take home. Check out the handicraft gallery.
Boquillas is surrounded by a 520,000 acre Biosphere Preserve. The Maderas del Carmen Preserve includes deep desert canyons and rugged mountains peaks over 10,000′. It is home to 70 mammal and over 400 bird species. Mexican Natural Preserves charge admission fees of $1.50. Sometimes fees are collected in Boquillas. Fees may be charged during peak seasons, and without notice. Funds go to protect critical wildlife habitat.
Through Mid-May 2018, and starting again October 1, Boquillas Adventures will offer a short tours to the surrounding area by foot, truck, horse/burro, and canoe. The tours will go to a variety of interesting attractions such as Boquillas Canyon, hot springs, archeological sites, and a cave full of crystals. Learn more about guided excursions in Boquillas.